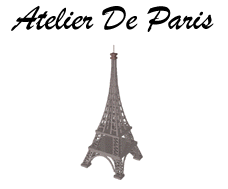 1543 South Robertson Boulevard
Los Angeles, CA 90035
Tel: (310) 553-6636
Fax: (310) 553-9621
e-mail: rosemary@atelierdeparis.com
Atelier de Paris is a complete supply center for silk painters, we are the distributors of Rocco Fabric Paints and Dyes made in the USA, an importer of H. Dupont Dyes for silk and wool from France, and an importer of silk products and hand-rolled scarves from China.
See our new catalog and price list here!!!
Services include:
Silky Way Gallery
Custom Hand Painting
Dupont Dyes
Rocco Dyes
Marbling
Pewters
Jewelry and Accessories
---
©1999 Atelier de Paris
webmaster